Best PCIe 5.0 SSD
Posted on January 28, 2023 by Raymond Chen
The PCI Express 5.0 is the newest standard for computing devices. What SSD reaches all of its potential, read in our updateable list below.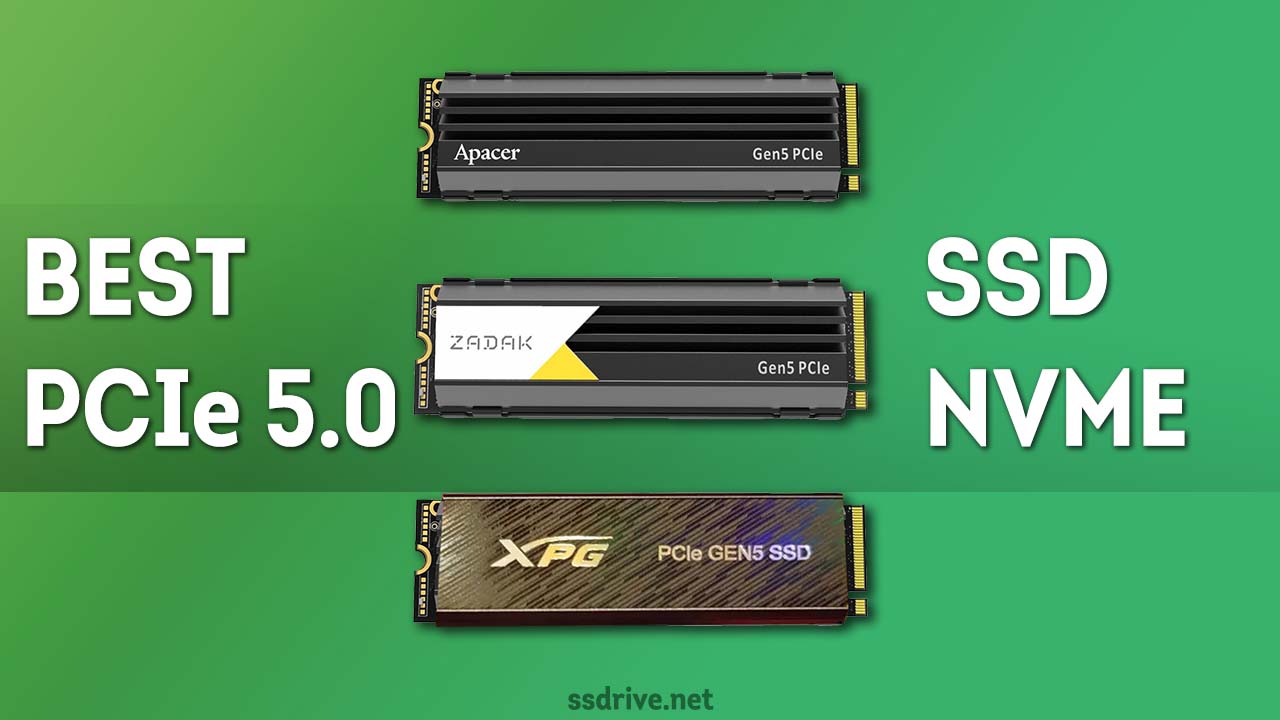 New generation storage is supported by limited CPU and chipsets. It makes production of SSD not profitable for manufacturers and the price is too high for end users. The situation will change when a new generation of processors and motherboards will start appearing in the market.
At the time of this writing, LGA 1700 (for Intel's chipset) and AM5 (AMD CPU) supports PCIe 5.0 standard. These sockets require Intel 12th+ CPUs and AMD 600 also known as Ryzen 7000 processors (Ryzen 7600x, 7700x, 7950x and 7900x). Dry numbers says that fifth gen increases the bandwidth twice from 64 to 128 Gb/s.
New technology is also available for laptops. MSI presented a Titan, Raider, Vector and Creator lineups that can have one M.2 x4 SSD Gen5 on board and an Nvidia RTX 40xx GPU.
The fifth generation of NVMe storage is back compatible with 4, 3, 2 and the first versions of PCIe. New controller is limited to 14000 Mb/s for reading and 11800 Mb/s for sequential writing speeds. Most presented SSD require heatsink for proper work, usually pre installed by the manufacturer.
The PCIe 5.0 is a very exciting technology that can change the game and software industry in the near future. Microsoft already announced DirectStorage, which will not only speed up loading, but save significantly at next-gen IO rates and add more features for optimizations. New software will be available for Windows 11 systems.
List of PCIe 5.0 SSD to buy in 2023
There is 23 SSD in our database. Links to reviewed models of storage with detailed characteristics listed in table below.
Best PCIe 5.0 SSD FAQ
The 5th generation of PCIe SSD was introduced at CES 2022 by Adata XPG, MSI Spatium, Patriot and Gigabyte Aorus Gen5 10000 SSD. Sales to end consumers start from early 2023. MSI announced the beginning of shipping from the 2nd quarter.
The fastest SSD working on the 5th generation of PCIe chipset is Adata XPG. It works on Silicon Motion SM2508 controller, which provides sequential write speed 12k Mbps and reading 14k Mbps.
At the moment Samsung has not yet released any PCIe 5.0 storage. Their only announced development process is in December 2022. First model called PM1743 will work with 6-gen V-NAND memory and will be available on the enterprise servers.