CFD PG5NFZ 2Tb NVMe review
Posted on December 08, 2022 by Raymond Chen
CFD's PG5NFZ internal SSD works on PCIe M.2 5.0 interface. Read below about this SSD on this site.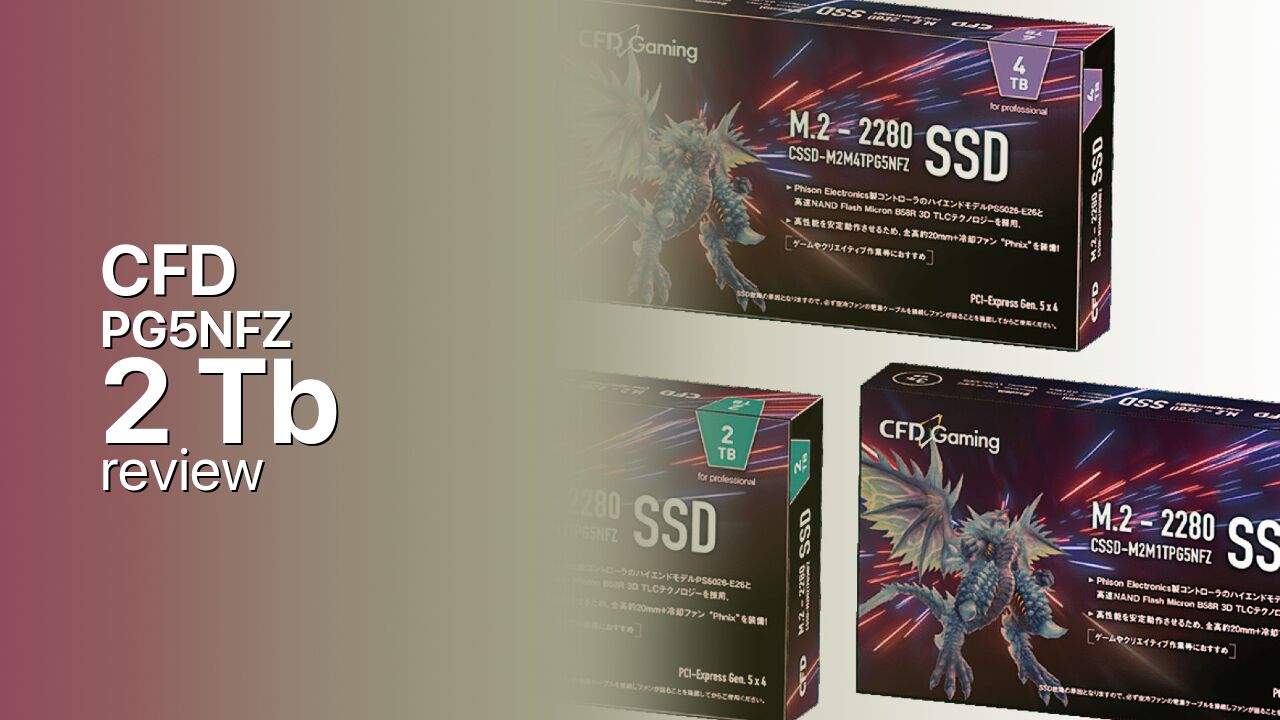 CFD's 2Tb PG5NFZ internal SSD works on Phison PS5026-E26 . The PG5NFZ comes equipped with Micron 3d TLC flash memory. This NVMe is offered also in 4 Tb and 1 Tb capacities.
Performance and benchmarks
CFD PG5NFZ use PCIe M.2 5.0 bus with read speeds 10000 Mbps, and write speeds 9500 MB/s. This model has input/output performance 1500000 on reading and 1250000 on writing operations per second.
Endurance and warranty
Specs
| | |
| --- | --- |
| Category | Value |
| Capacity | 2 Tb |
| Interface | M.2 5.0 |
| Controller | Phison PS5026-E26 |
| Memory type | Micron 3d TLC |
| DRAM | n/a |
| Read speed (Mb/s) | 10000 |
| Write speed (Mb/s) | 9500 |
| Read IOPS | 1500000 |
| Write IOPS | 1250000 |
| Endurance (TBW) | n/a |
| MTBF (million hours) | n/a |
| Warranty (years) | n/a |
Conclusion
The sequential write speed is 9500 Mb/s, that is faster than has most of competitors. When everything is weighed in the balance, our site recommend to purchase CFD PG5NFZ 2Tb for your PC.
+ Pros
Excellent writing speed
PCIe 5.0
Capacity
Buy this or similar SSD:
Video Review
PCIE 5.0 SSDs: Der japanische Händler fordert den Doppelpreis für PCIe 4.0 an
FAQ
The PG5NFZ 2Tb is DRAMless drive or information about it is unknown. Dynamic random-access memory (DRAM) in their controller help to increase endurance and input/output performance.
The CFD PG5NFZ 2Tb due to the high density of memory chips require the installation of extra heat sink. This will decrease temperature of the memory chips and controller. Some motherboards or laptops already has thermal pads below and above the SSD for improving productivity during high loads.
The PG5NFZ 2Tb has write speed 9500 Mb/s, sequential read speed 10000 Mb/s. Storage run on Phison PS5026-E26 controller and M.2 5.0 high-speed serial computer expansion bus standard. The NAND flash memory type is Micron 3d TLC.