Best Deal of 1 TB SSDs NVME
Posted on March 07, 2023 by Raymond Chen
Solid State Drives significantly increase loading speeds of your system. That's why at least 1 TB SSD is required for all new PCs, laptops or gaming consoles. Which one is best, read below.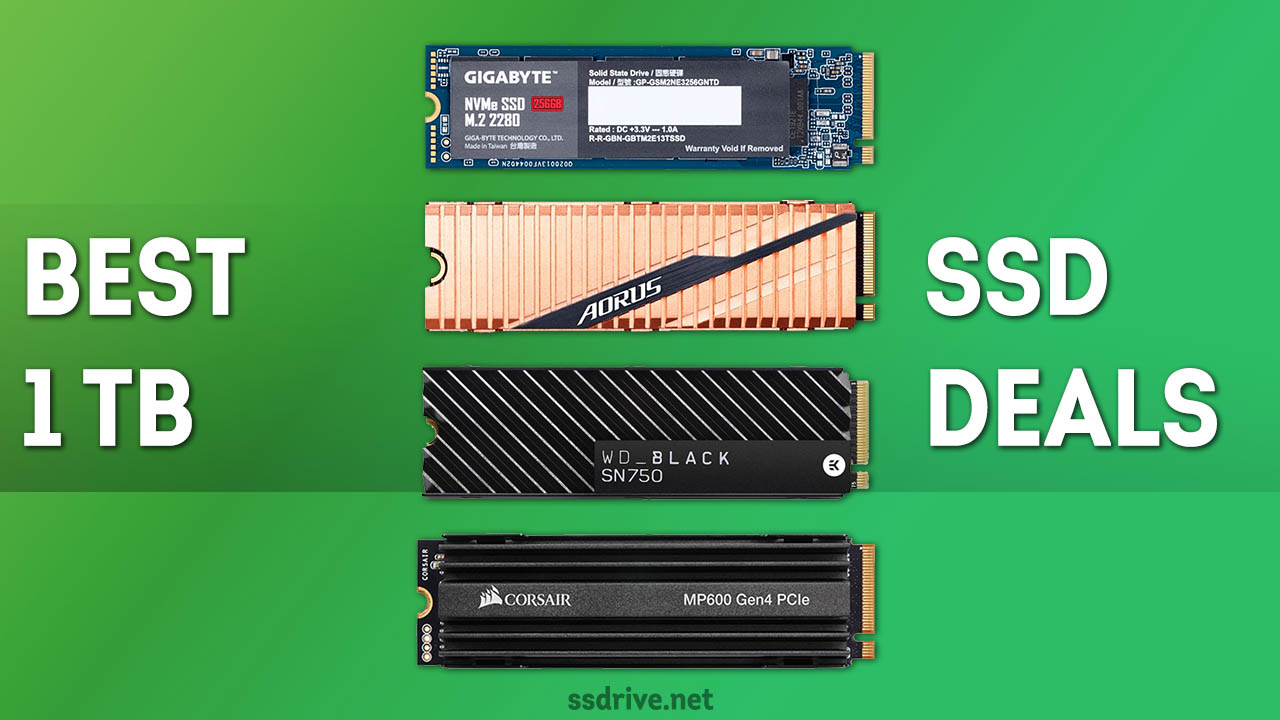 Manufacturers of laptops usually place 256 or 512 GB of storage to new mid-end models. This is clearly not enough to run the OS (for example Windows 11 requires 64 Gb of storage, that is significant for 256 GB systems) and use it comfortably with an office package. When you install modern games that can weigh more than 100 GB it's obvious that you have not enough space. There is still time for the upgrade, and 1 TB is not so expensive in 2023.
So the first step in finding the best 1 terabyte storage for upgrade is to learn your system requirements. There are 3 main connector types now: SATA cable (slowest one, working on SATA 3 up to 560 Mbps), NVMe PCIe (M.2 slot) or PCIe on the motherboard. M.2 slot works on PCIe 3.0, 4.0 and 5.0 extension bus. The most modern equipment supports fifth generation that can run on speeds up to 14Gb/s.Next is the endurance and warranty research. Most reliable brands now are Samsung, Western Digital and Intel. Many SSD have MTBF (Mean Time Between Failures), that predict how much time the product will work before failing. We strongly recommend to backup SSD regularly to HDD or cloud.
Best deal for its price is the Samsung 970 Evo Plus (less than $80), but it works only on the PCIe 3.0x4 expansion slot, which is two times slower than its PCIe 4.0 devices. If you want something faster and reliable choose between Samsung 990 PRO and Western Digital SN850X, that works in PS5 too by the way.
List of 1 TB SSD to buy in 2023
There is 194 SSD in our database. Links to reviewed models of storage with detailed characteristics listed in table below.
Best 1 TB SSD FAQ
The 1 terabyte is the size of Solid State Drive that is equal to about 1 trillion bytes. This means that you can store 500 hours of full HD video, 250 thousands of photos from modern smartphones or more than 6 millions of documents.
The price of 1 TB SSD Storage is between 50 and 190 U.S. Dollars, according to form factor, storage density, PCIe version and speed. The cheapest one is the SATA solid state drives (Team Group EX2, Samsung 870 QVO Series or Patriot P210), mid-end price gets M.2 PCIe 3.0 NVMe SSD (Crucial P3, Samsung 970 EVO or Gigabyte GP-GSM2) and highest price PCIe 4.0 and 4x4 (Western Digital Black SN850X, Samsung 980 PRO or Seagate FireCuda 530).
According to the size of modern games (50-250 Gb), 1 TB is enough to store from 3 to 15 well textured games. Include the OS size (50 Gb) and software and your space on the SSD will be right on top. So the one terabyte storage is sufficient for gaming in most cases, but sometimes you will remove old to install new games.
The modern laptops support connection of M.2 NVMe SSD limited only with physical size. You can easily install a 2 TB SSD, but you should use heatsink plates for it. High density memory overheats and starts throttle (decrease) writing and reading speeds in such closed systems as laptop is.