ADATA Swordfish 500Gb SSD tech review
Posted on November 07, 2022 by Raymond Chen
ADATA's Swordfish NVMe SSD works on PCIe M.2 3.0 x 4 interface. Read below about this NVMe SSD on our page.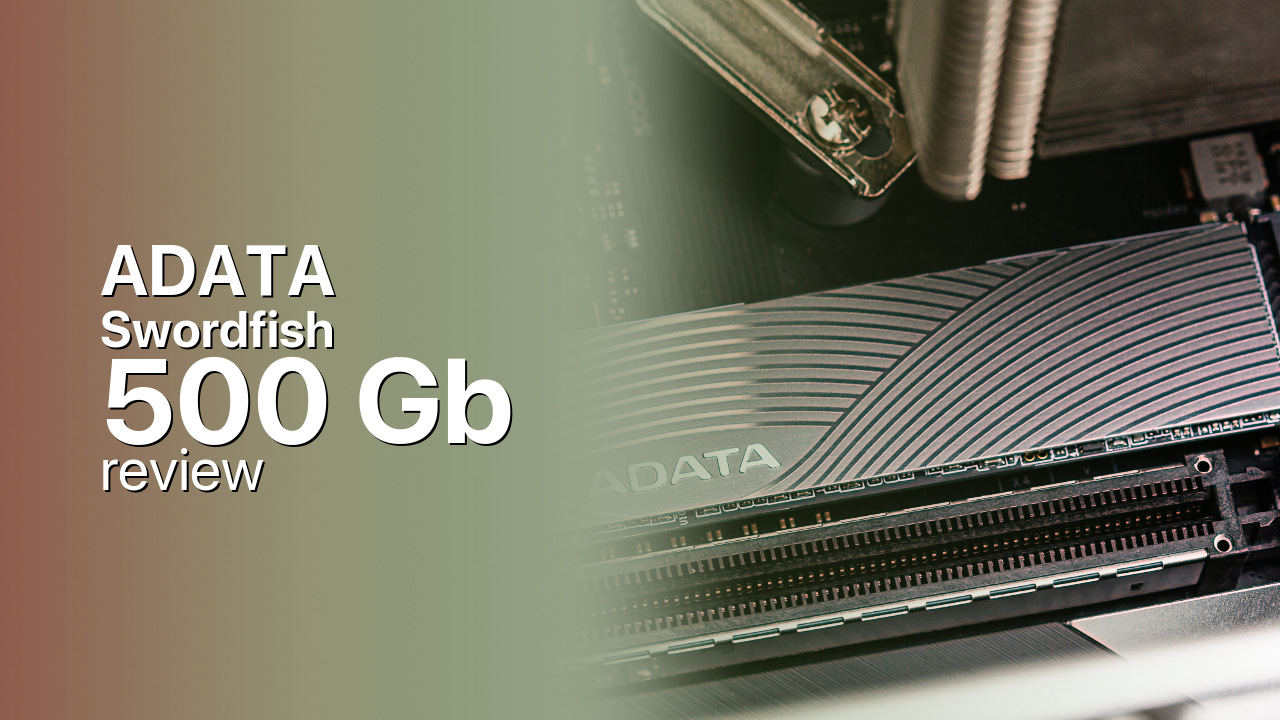 Swordfish (500Gb) produced by ADATA works on Realtek RTS5763DL. This NVMe has DRAM Host Memory Buffer to keep a map of where data is located on the internal SSD. The Swordfish comes equipped with ADATA 3D TLC flash memory. Internal SSD also available in three capacities, including 2 Tb, 1 Tb and 250 Gb volume sizes.
Performance and benchmarks
Storage works on PCIe M.2 3.0 x 4 with sequential write speeds 1200 Mbps, and sequential read speeds 1800 MB/s. Swordfish has IOPS 180000 on reading and 180000 on writing operations.
Endurance and warranty
Manufacturer provide 5 years warranty period limited by 330 TBW. As well it has 1.8 million hours MTBF.
Specs
| | |
| --- | --- |
| Category | Value |
| Capacity | 500 Gb |
| Interface | M.2 3.0 x 4 |
| Controller | Realtek RTS5763DL |
| Memory type | ADATA 3D TLC |
| DRAM | Host Memory Buffer |
| Read speed (Mb/s) | 1800 |
| Write speed (Mb/s) | 1200 |
| Read IOPS | 180000 |
| Write IOPS | 180000 |
| Endurance (TBW) | 330 |
| MTBF (million hours) | 1.8 |
| Warranty (years) | 5 |
Conclusion
ADATA Swordfish 500Gb may work on previous bus standard that is twice slower than PCIe Gen4. The sequential write speed is 1200 Mb/s, that is slower than has most of rivals. The ADATA Swordfish provide possibility to write 330 TBW, that is poor compared to nearest competitors. Overall, ADATA Swordfish 500Gb has more disadvantages and we highly do not advise to spend money for it.
- Cons
Slow writing speed
PCIe 3.0
Capacity
Writing speed
Buy this or similar SSD:
Video Review
50$ NVME SSD Adata SWORDFISH 500GB Unboxing
FAQ
The ADATA Swordfish has Host Memory Buffer. This means that the drive uses the system's random-access memory for its proprietary needs. DRAM makes drive work faster, but more expensive.
The Swordfish 500Gb due to the low density of memory chips can work without additional cooling systems. Some laptops or motherboards from the factory has thermal pads above and below the storage to enhance productivity during high loads.
The Swordfish 500Gb has sequential write speed 1200 Mb/s, read speed 1800 Mbps. NVMe run on Realtek RTS5763DL controller and M.2 3.0 x 4 interface standard. The NAND flash memory type is ADATA 3D TLC.