Addlink S92 2Tb NVMe review
Posted on November 07, 2022 by Raymond Chen
Should you buy Addlink S92 2Tb and other specs explore on this site.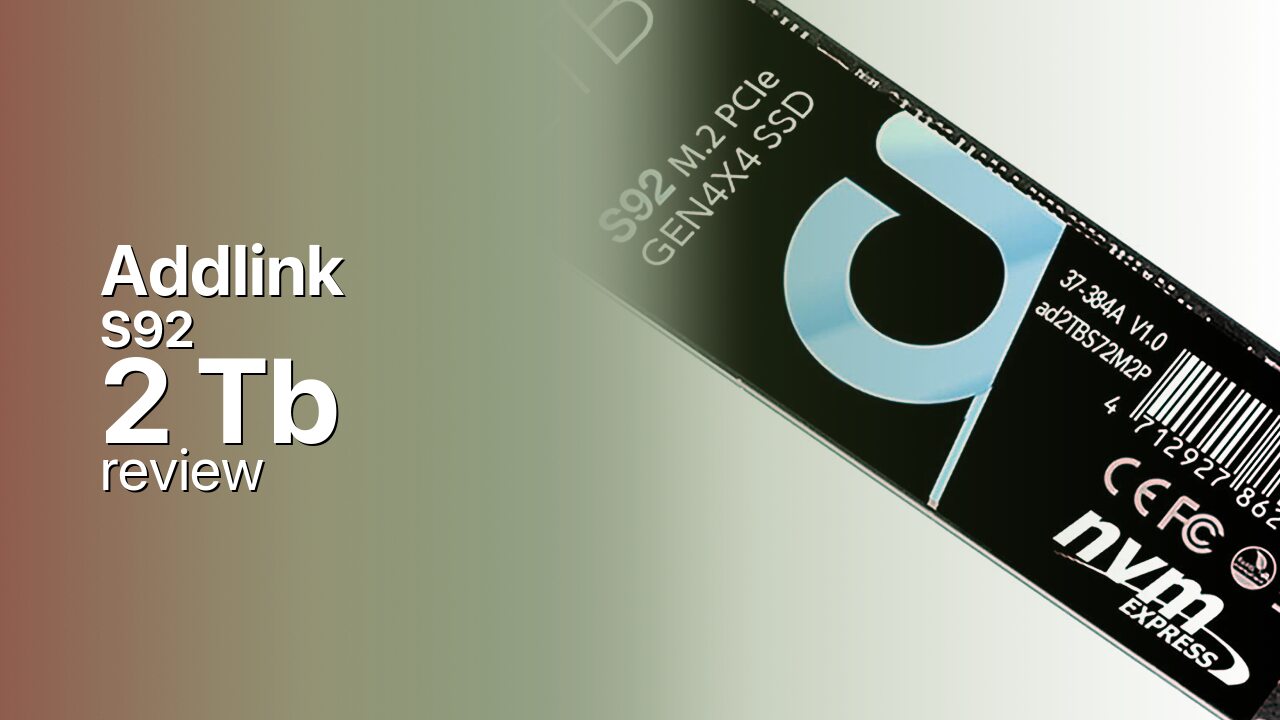 Addlink S92 2Tb is powered by Phison PS5016-E16 controller. The SSD storing a data location map on Dynamic-Random Access Memory DDR3 to launch a programs faster. The S92 comes equipped with Micron 3D QLC memory. Internal SSD also available in 4 Tb and 1 Tb capacities.
Performance and benchmarks
Internal SSD works on PCIe M.2 4.0 x 4 bus with maximum write speeds 3600 MB/s, and read speeds 4900 MB/s. This model has IOPS 700000 on writing and 350000 on reading operations.
Endurance and warranty
Manufacturer give 5 years warranty period limited by 400 TBW. The S92 has 1.8 million hours MTBF.
Specs
| | |
| --- | --- |
| Category | Value |
| Capacity | 2 Tb |
| Interface | M.2 4.0 x 4 |
| Controller | Phison PS5016-E16 |
| Memory type | Micron 3D QLC |
| DRAM | DDR3 |
| Read speed (Mb/s) | 4900 |
| Write speed (Mb/s) | 3600 |
| Read IOPS | 350000 |
| Write IOPS | 700000 |
| Endurance (TBW) | 400 |
| MTBF (million hours) | 1.8 |
| Warranty (years) | 5 |
Conclusion
Addlink S92 2Tb support PCIe 4.0 that is undoubtedly faster than PCIe 3.0. The sequential write speed is 3600 Mb/s, that is slower than has most of competitors. The Addlink S92 can write 400 TBW, that is not much against rivals. When everything is weighed in the balance, Addlink S92 2Tb is a well-rounded SSD.
- Cons
Slow writing speed
Writing speed
Buy this or similar SSD:
Video Review
Can an Amazon 1TB SSD compete with a Samsung EVO? Actually... yes | Hardware
FAQ
The Addlink S92 has DDR3. Dynamic random-access memory (DRAM) makes storage faster, but also more expensive.
The Addlink S92 due to the high density of memory chips requires installation of additional heat sink. This will decrease temperature of the memory chips and controller. Some motherboards already has additional cooling above or below the storage for improving performance during times of high loads.
The S92 2Tb has sequential write speed 3600 Mb/s, maximum read speed 4900 Mb per second. NVMe run on Phison PS5016-E16 controller and M.2 4.0 x 4 high-speed serial computer expansion bus standard. The memory type is Micron 3D QLC.