Corsair MP510 2Tb NVMe SSD detailed specifications
Posted on November 07, 2022 by Raymond Chen
Should you buy Corsair MP510 2Tb and further specifications read below on our page.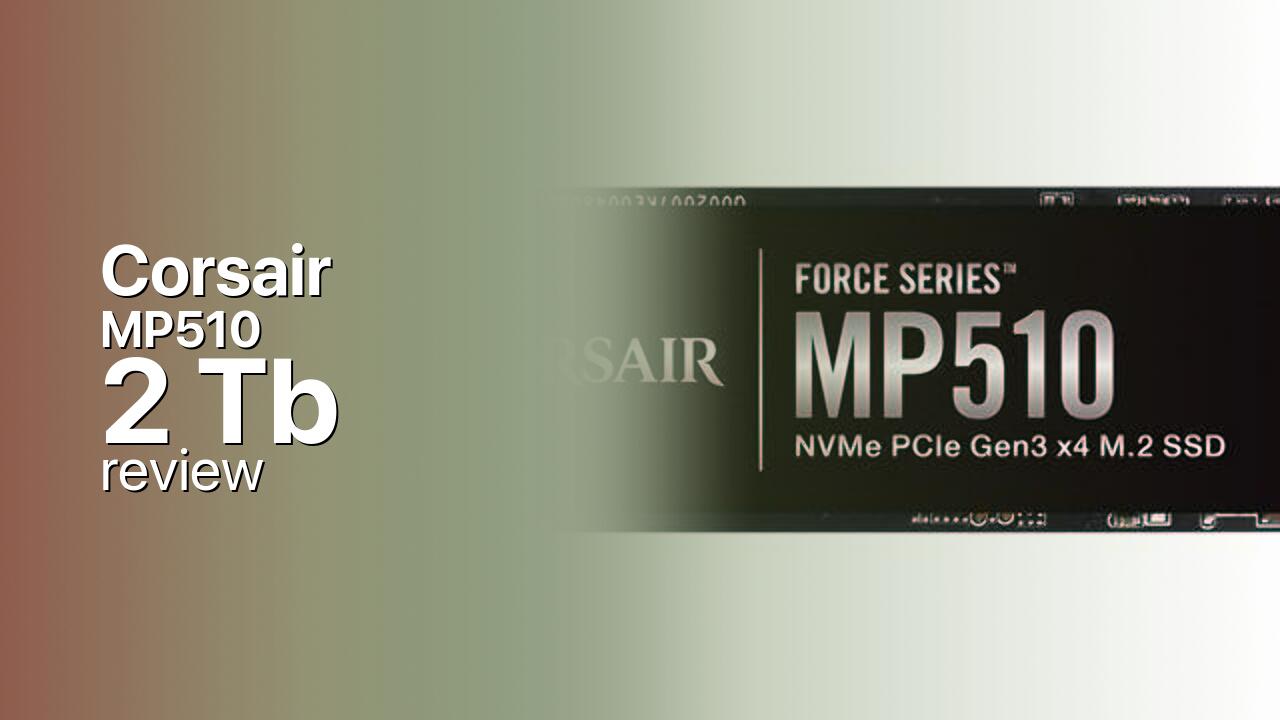 MP510 (2Tb) produced by Corsair is powered by Phison PS5012-E12. This SSD has DRAM SK Hynix DDR4 to keep a map of where data is located on the drive. The MP510 comes equipped with Toshiba TLC memory. SSD is offered also in three capacities: 480 Gb, 960 Gb and 240 Gb.
Performance and benchmarks
NVMe SSD use PCIe M.2 3.0 x 4 bus with maximum write speeds 3000 MB/s, and sequential read speeds 3480 Mbps. MP510 has input/output performance 610000 on reading and 510000 on writing operations.
Endurance and warranty
Manufacturer provide 5 years of warranty limited by 2440 TBW. As well it has 1.8 million hours mean time between failure.
Specs
| | |
| --- | --- |
| Category | Value |
| Capacity | 2 Tb |
| Interface | M.2 3.0 x 4 |
| Controller | Phison PS5012-E12 |
| Memory type | Toshiba TLC |
| DRAM | SK Hynix DDR4 |
| Read speed (Mb/s) | 3480 |
| Write speed (Mb/s) | 3000 |
| Read IOPS | 610000 |
| Write IOPS | 510000 |
| Endurance (TBW) | 2440 |
| MTBF (million hours) | 1.8 |
| Warranty (years) | 5 |
Conclusion
Corsair MP510 2Tb may work on previous bus standard that is significantly slower than PCIe 4. The sequential write speed is 3000 Mb/s, that is pretty good for this computer expansion bus standard. The NVMe SSD has endurance 2440 TBW, that is pretty well in comparison with rivals. On balance, we advise to purchase Corsair MP510 2Tb for your PC.
+ Pros
Good writing speed
Capacity
Endurance
Buy this or similar SSD:
Video Review
2TB NVME Face Off - Intel 660P - Corsair MP510 - Samsung 970 Evo Plus
FAQ
The Corsair MP510 has SK Hynix DDR4. Dynamic random-access memory (DRAM) in their controller help to increase endurance and input/output performance.
The Corsair MP510 2Tb due to the high density of memory chips require the installation of extra heat sink. It lower temperature of the controller and memory. Some motherboards or laptops from the factory has additional cooling above or below the SSD to enhance productivity during heavy loads.
The Corsair MP510 has sequential write speed 3000 Mb per second, maximum read speed 3480 Mbps. NVMe run on Phison PS5012-E12 controller and M.2 3.0 x 4 high-speed serial computer expansion bus standard. The NAND flash memory type is Toshiba TLC.