Corsair MP600 Pro LPX 2Tb NVMe detailed review
Posted on December 19, 2022 by Raymond Chen
Corsair's MP600 Pro LPX SSD works on PCIe M.2 4.0 x 4 interface. Detailed characteristics of this SSD on this site.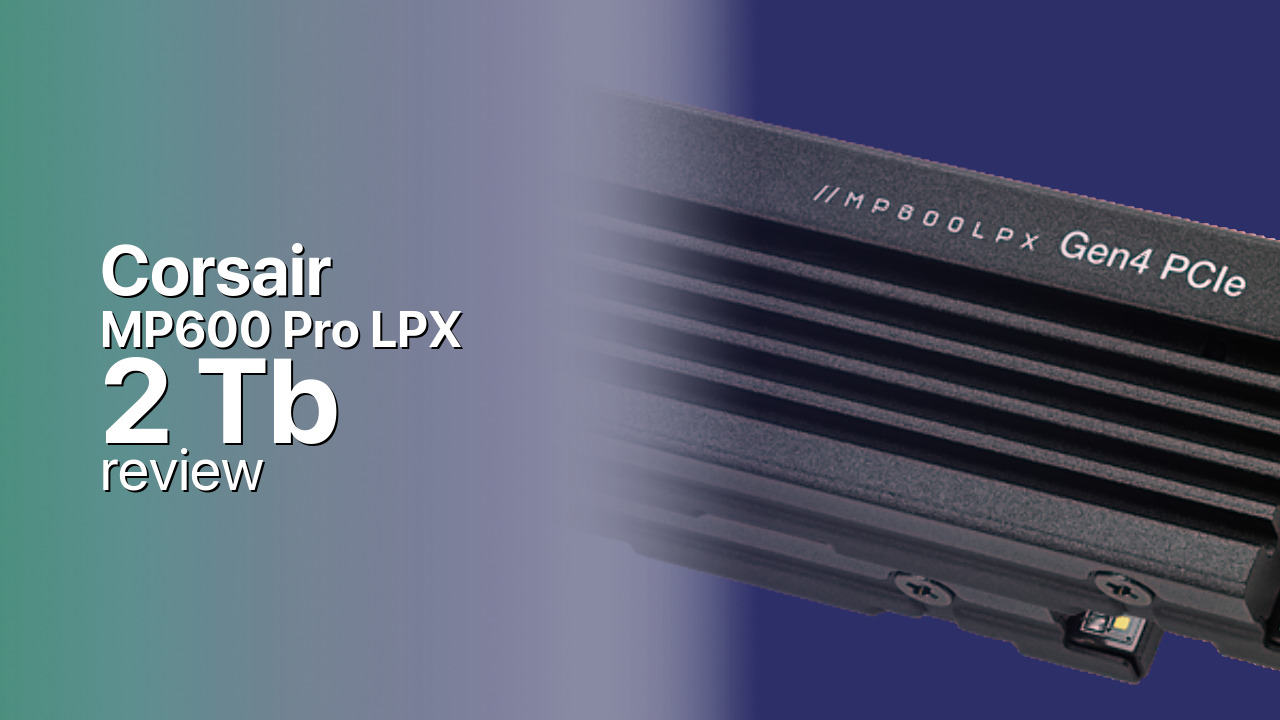 MP600 Pro LPX (2Tb) produced by Corsair is powered by Phison PS5018-E18 controller. This drive has DRAM 1GB DRAM to keep a map of where data is located on the NVMe SSD. The MP600 Pro LPX comes equipped with Micron 3D TLC flash memory. This drive also available in three capacities, including 1 Tb, 4 Tb and 512 Gb volume sizes.
Performance and benchmarks
SSD use PCIe M.2 4.0 x 4 with read speeds 7100 MB/s, and maximum write speeds 6800 MB/s. MP600 Pro LPX has input/output performance 1000000 on reading and 1200000 on writing operations.
Endurance and warranty
Manufacturer give 5 years warranty period that limited by 3000 TBW.
Specs
| | |
| --- | --- |
| Category | Value |
| Capacity | 2 Tb |
| Interface | M.2 4.0 x 4 |
| Controller | Phison PS5018-E18 |
| Memory type | Micron 3D TLC |
| DRAM | 1GB DRAM |
| Read speed (Mb/s) | 7100 |
| Write speed (Mb/s) | 6800 |
| Read IOPS | 1000000 |
| Write IOPS | 1200000 |
| Endurance (TBW) | 3000 |
| MTBF (million hours) | n/a |
| Warranty (years) | 5 |
Conclusion
MP600 Pro LPX (2Tb) produced by Corsair support PCIe Gen4 that is undoubtedly faster than previous bus standard. The sequential write speed is 6800 Mb/s, that is faster than has other competitors. The Corsair MP600 Pro LPX can write 3000 TBW, that is good against nearest competitors. When everything is weighed in the balance, we advise to buy Corsair MP600 Pro LPX 2Tb for your PC.
+ Pros
Excellent writing speed
PCIe 4.0
Capacity
Endurance
Buy this or similar SSD:
Video Review
Corsair MP600 PRO LPX SSD PS5 Expansion Tests
FAQ
The Corsair MP600 Pro LPX has 1GB DRAM. DRAM in their controller help to improve endurance and IOPS.
The Corsair MP600 Pro LPX 2Tb due to the high density of memory chips requires installation of additional heat sink. It lower temperature of the memory chips and controller. Some motherboards or laptops already has additional cooling above or below the drive to improve productivity during high loads.
The Corsair MP600 Pro LPX 2Tb has write speed 6800 Mb per second, maximum read speed 7100 Mb/s. Storage run on Phison PS5018-E18 controller and M.2 4.0 x 4 high-speed serial computer expansion bus standard. The memory type is Micron 3D TLC.