Kioxia XG8 1Tb NVMe review
Posted on December 05, 2022 by Raymond Chen
Should you buy Kioxia XG8 1Tb and another details read below on this site.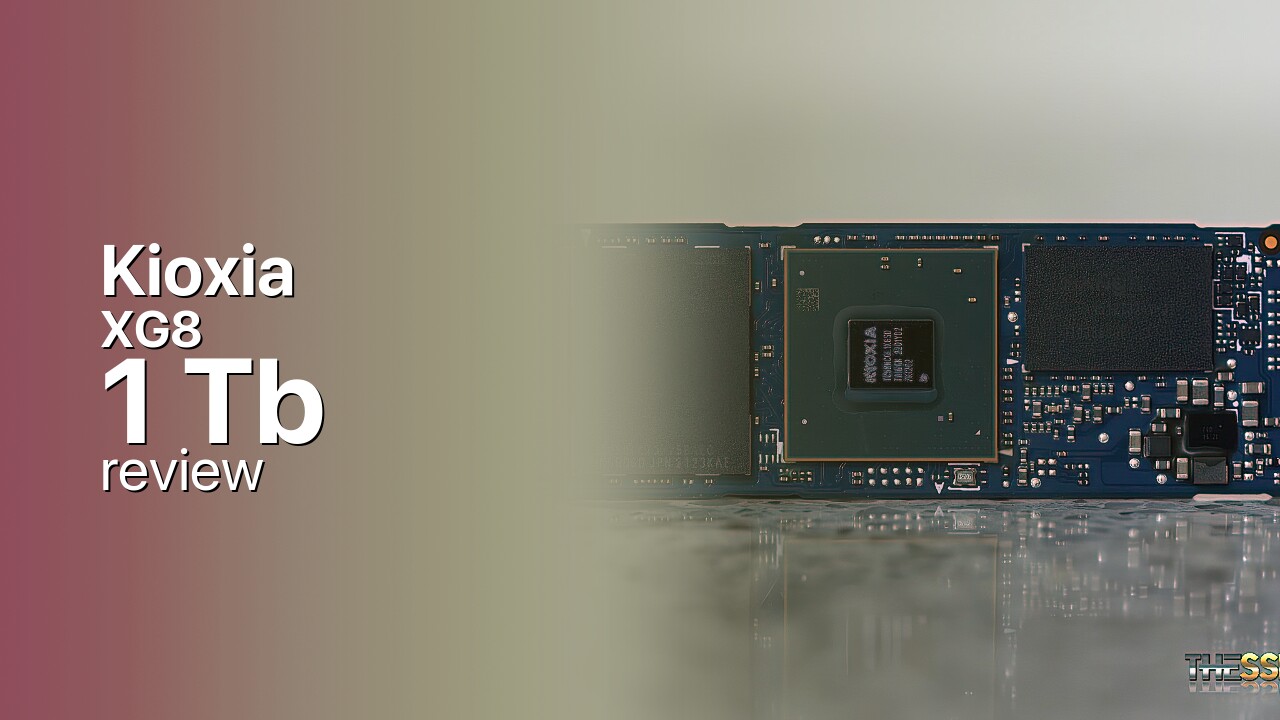 Kioxia XG8 1Tb is powered by Kioxia TC58NC0L1XGSD. This NVMe has DRAM LPDDR4 to keep a map of where data is located on the SSD. The XG8 comes equipped with Kioxia BICS5 TLC memory. NVMe SSD is offered also in three capacities, including 512 Gb, 2 Tb and 4 Tb.
Performance and benchmarks
Kioxia XG8 use PCIe M.2 4.0 x 4 bus with maximum write speeds equals to 5800 MB/s, and maximum read speeds 7000 Mbps. This model has input/output performance 620000 on writing and 900000 on reading operations per second.
Endurance and warranty
Manufacturer provide 5 years warranty for this product.
Specs
| | |
| --- | --- |
| Category | Value |
| Capacity | 1 Tb |
| Interface | M.2 4.0 x 4 |
| Controller | Kioxia TC58NC0L1XGSD |
| Memory type | Kioxia BICS5 TLC |
| DRAM | LPDDR4 |
| Read speed (Mb/s) | 7000 |
| Write speed (Mb/s) | 5800 |
| Read IOPS | 900000 |
| Write IOPS | 620000 |
| Endurance (TBW) | n/a |
| MTBF (million hours) | n/a |
| Warranty (years) | 5 |
Conclusion
XG8 (1Tb) produced by Kioxia may work on PCIe 4 that is undoubtedly faster than PCIe 3.0. The write speed is 5800 Mb/s, that is faster than has other competitors. On balance, we highly advise to have Kioxia XG8 1Tb for your PC.
+ Pros
Excellent writing speed
PCIe 4.0
Capacity
Buy this or similar SSD:
Video Review
Kioxia showing off the CD7. Will come in capacities up to 7.68TB and will have a Gen5x2 interface.
FAQ
The Kioxia XG8 has LPDDR4. DRAM makes SSD work faster, but also more expensive.
The Kioxia XG8 1Tb due to the low density of memory chips can operate without additional heat sinks. Some motherboards or laptops already has thermal pads above or below the drive for improving productivity during times of heavy loads.
The Kioxia XG8 1Tb has maximum write speed 5800 Mbps, maximum read speed 7000 Mb per second. SSD operate on Kioxia TC58NC0L1XGSD controller and M.2 4.0 x 4 high-speed serial computer expansion bus standard. The NAND flash memory type is Kioxia BICS5 TLC.