Lexar NM760 1Tb NVMe detailed specs
Posted on November 07, 2022 by Raymond Chen
Lexar's NM760 NVMe use PCIe M.2 4.0 x 4. Read below about this NVMe SSD on our page.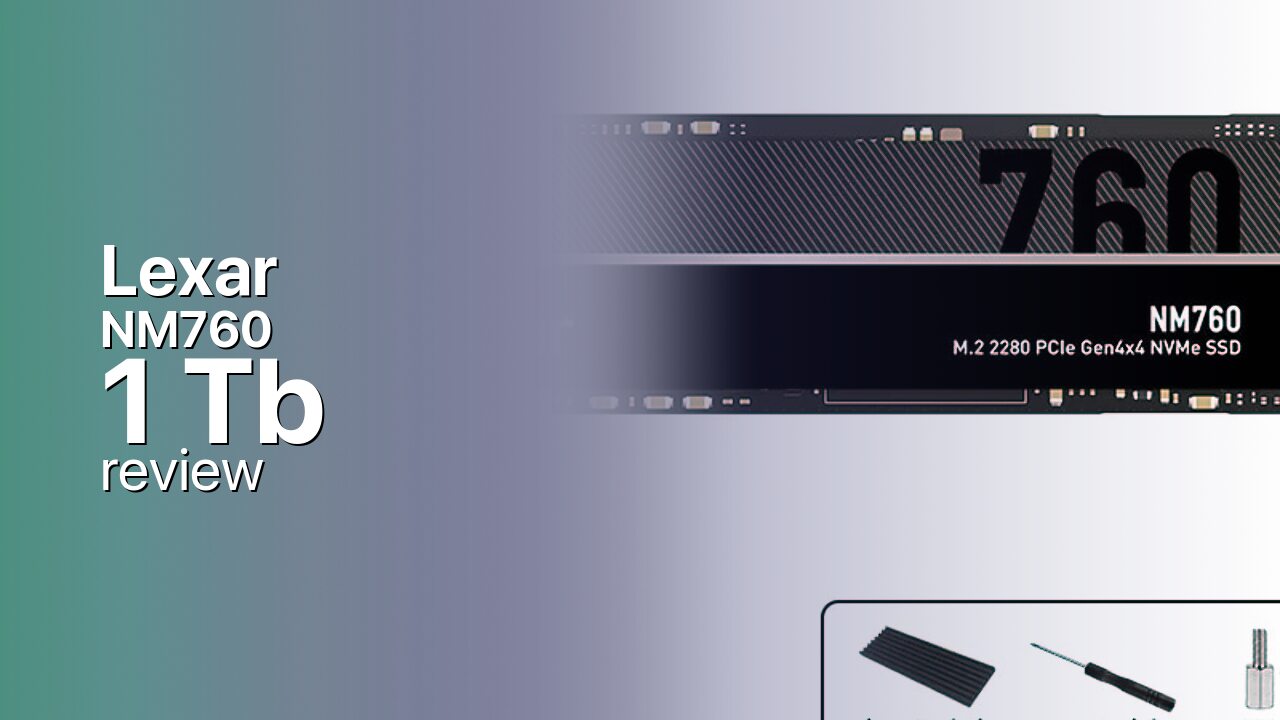 Lexar NM760 1Tb use Silicon Motion SM2269XT controller. This SSD has DRAM DRAM HMB to keep a map of where data is located on the storage. The NM760 comes equipped with Micron 3D TLC memory. This drive is offered also in 512 Gb volume sizes.
Performance and benchmarks
SSD works on PCIe M.2 4.0 x 4 with write speeds 4500 Mbps, and read speeds 5300 Mbps.
Endurance and warranty
Lexar give 5-year warranty limited by 1000 Total Bytes Written.
Specs
| | |
| --- | --- |
| Category | Value |
| Capacity | 1 Tb |
| Interface | M.2 4.0 x 4 |
| Controller | Silicon Motion SM2269XT |
| Memory type | Micron 3D TLC |
| DRAM | DRAM HMB |
| Read speed (Mb/s) | 5300 |
| Write speed (Mb/s) | 4500 |
| Read IOPS | n/a |
| Write IOPS | n/a |
| Endurance (TBW) | 1000 |
| MTBF (million hours) | n/a |
| Warranty (years) | 5 |
Conclusion
NM760 (1Tb) produced by Lexar use PCIe 4 that is undoubtedly faster than PCIe 3.0. The sequential write speed is 4500 Mbps, that is pretty good for this expansion standard. The Internal SSD has endurance 1000 TBW, that is pretty well in comparison with closest competitors. When everything is weighed in the balance, our site recommend to purchase Lexar NM760 1Tb for your PC.
+ Pros
Good writing speed
PCIe 4.0
Capacity
Endurance
Buy this or similar SSD:
Video Review
Lexar New Entry-level PCIe 4.0 NVMe SSD - Lexar NM760 - Review
FAQ
The Lexar NM760 has DRAM HMB. Which means that the SSD uses the system's RAM for its personal operations. DRAM in their controller help to increase I/O performance and endurance.
The Lexar NM760 1Tb due to the low density of memory chips may operate with no extra cooling systems. Some motherboards or laptops designed with additional cooling below or above the SSD to enhance performance during times of heavy loads.
The Lexar NM760 has sequential write speed 4500 Mb/s, read speed 5300 Mbps. It run on Silicon Motion SM2269XT controller and M.2 4.0 x 4 interface standard. The NAND memory type is Micron 3D TLC.