Klevv CRAS C920 512Gb NVMe specifications
Posted on November 14, 2022 by Raymond Chen
Klevv's CRAS C920 NVMe use PCIe M.2 4.0 x 4 interface. Detailed characteristics of this SSD in our article.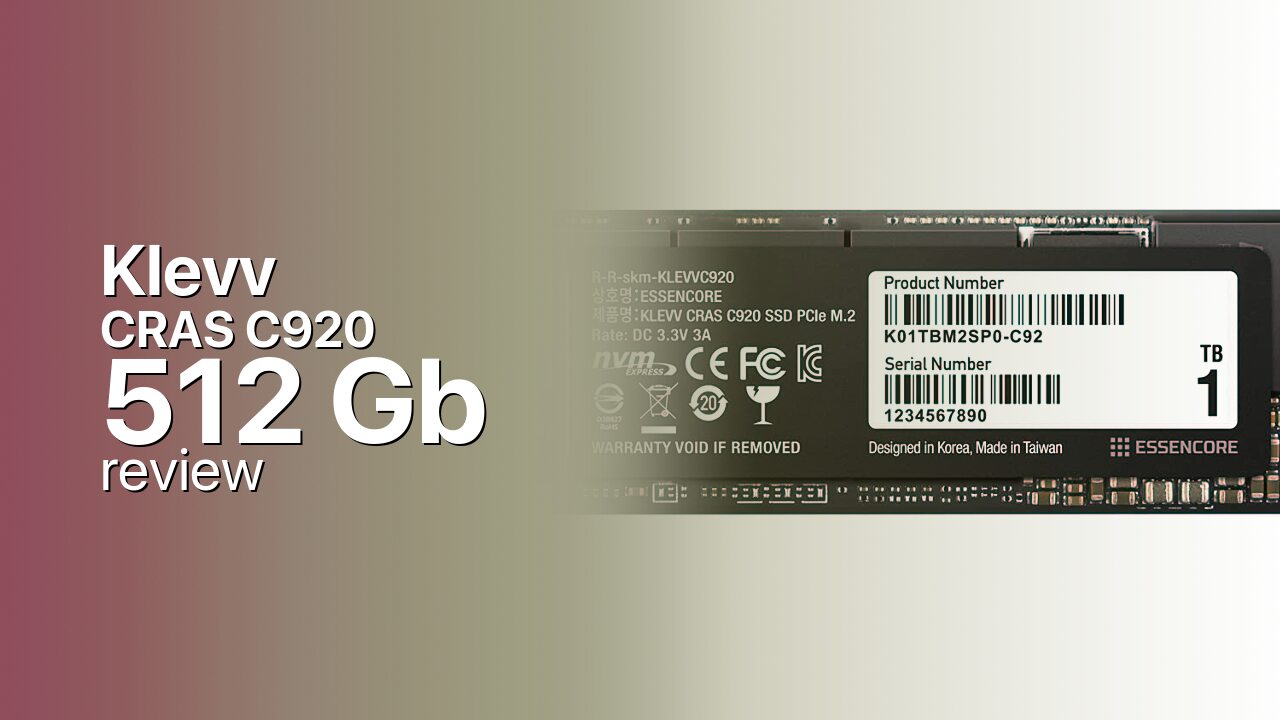 CRAS C920 (512Gb) produced by Klevv is powered by Phison PS5018-E18. This internal SSD has DRAM DRAM SLC for mapping data, located on the drive. The CRAS C920 comes equipped with 3D TLC memory. Klevv CRAS C920 is offered also in three capacities, including 1 Tb, 2 Tb and 256 Gb volume sizes.
Performance and benchmarks
This NVMe use PCIe M.2 4.0 x 4 computer expansion bus standard with read speeds 7000 Mbps, and write speeds equals to 6850 Mbps.
Endurance and warranty
Klevv provide 5 years of warranty limited by 1400 TBW.
Specs
| | |
| --- | --- |
| Category | Value |
| Capacity | 512 Gb |
| Interface | M.2 4.0 x 4 |
| Controller | Phison PS5018-E18 |
| Memory type | 3D TLC |
| DRAM | DRAM SLC |
| Read speed (Mb/s) | 7000 |
| Write speed (Mb/s) | 6850 |
| Read IOPS | n/a |
| Write IOPS | n/a |
| Endurance (TBW) | 1400 |
| MTBF (million hours) | n/a |
| Warranty (years) | 5 |
Conclusion
CRAS C920 (512Gb) produced by Klevv may work on PCIe 4 that is twice faster than PCIe 3. The maximum write speed is 6850 Mb/s, that is faster than has other competitors. The drive provide possibility to write 1400 TBW, that is perfect compared to competitors. On balance, our editor highly advise to buy Klevv CRAS C920 512Gb for your PC.
+ Pros
Excellent writing speed
PCIe 4.0
Endurance
Buy this or similar SSD:
Video Review
KLEVV CRAS C920 M.2 Nvme Gen4 & C720 M.2 Nvme Review & Benchmarks
FAQ
The Klevv CRAS C920 has DRAM SLC. DRAM makes drive work faster, but more expensive.
The Klevv CRAS C920 due to the low density of memory chips able to run without additional cooling systems. Some motherboards or laptops designed with thermal pads above or below the drive for improving performance during high loads.
The Klevv CRAS C920 has write speed 6850 Mb per second, sequential read speed 7000 Mbps. Storage works on Phison PS5018-E18 controller and M.2 4.0 x 4 high-speed serial computer expansion bus standard. The NAND memory type is 3D TLC.