MyDigitalSSD BPX 120Gb NVMe detailed specifications
Posted on November 07, 2022 by Raymond Chen
What memory type installed in BPX (120Gb) produced by MyDigitalSSD and further characteristics read below on our page.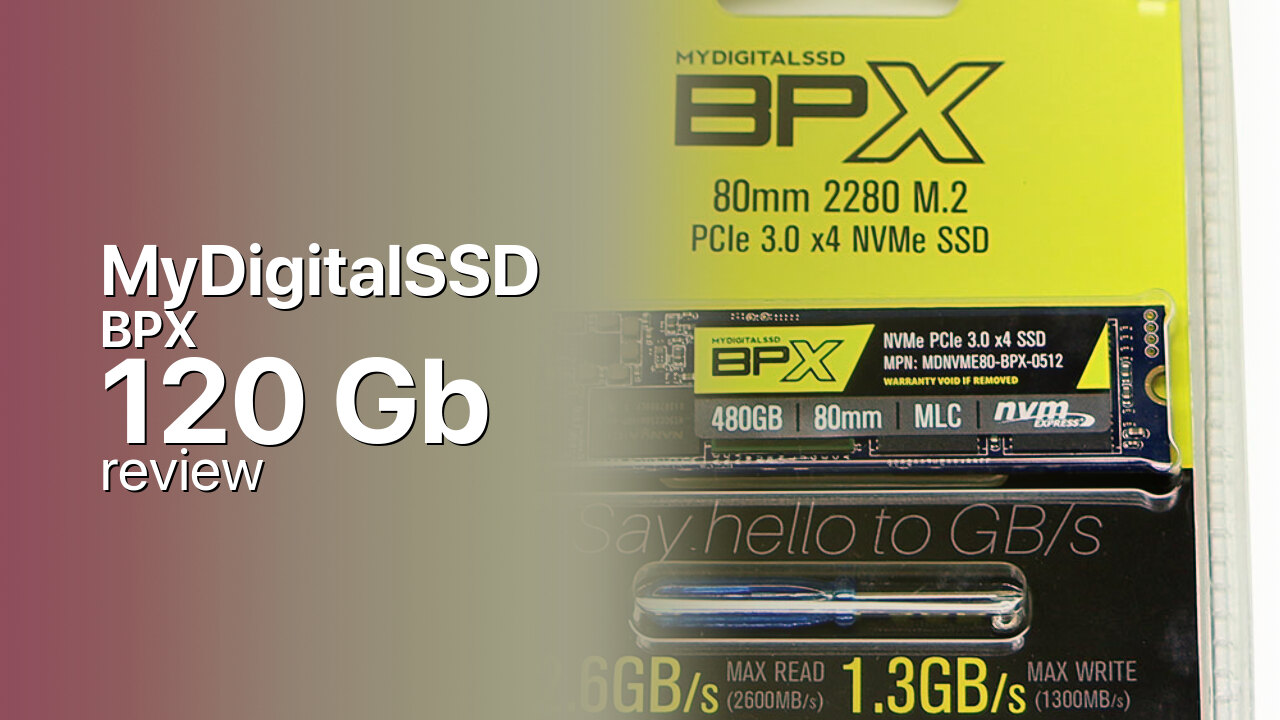 MyDigitalSSD BPX 120Gb is powered by Phison 5007-E7 controller. This NVMe has Dynamic-Random Access Memory 512MB Nanya 512MB DDR3 1600 DRAM to keep a map of where data is located on the NVMe. The BPX comes equipped with SanDisk MLC flash memory. SSD besides, available in 240 Gb and 480 Gb capacities.
Performance and benchmarks
Drive works on PCIe M.2 3.0 x 4 interface with maximum write speeds 1300 Mbps, and maximum read speeds 2600 MB/s. BPX has input/output performance 150000 on reading and 265000 on writing operations per second.
Endurance and warranty
MyDigitalSSD give 5-year warranty limited by endurance 1400 TBW. The BPX has 2 million hours MTBF.
Specs
| | |
| --- | --- |
| Category | Value |
| Capacity | 120 Gb |
| Interface | M.2 3.0 x 4 |
| Controller | Phison 5007-E7 |
| Memory type | SanDisk MLC |
| DRAM | 512MB Nanya 512MB DDR3 1600 DRAM |
| Read speed (Mb/s) | 2600 |
| Write speed (Mb/s) | 1300 |
| Read IOPS | 150000 |
| Write IOPS | 265000 |
| Endurance (TBW) | 1400 |
| MTBF (million hours) | 2 |
| Warranty (years) | 5 |
Conclusion
MyDigitalSSD BPX 120Gb use previous bus standard that is undoubtedly slower than PCIe 4. The write speed is 1300 Mb/s, that is slower than has most of competitors. The MyDigitalSSD BPX has endurance 1400 TBW, that is perfect in comparison with nearest rivals. Weighing all these factors, MyDigitalSSD BPX 120Gb has more cons and we highly do not recommend to purchase it.
- Cons
Slow writing speed
PCIe 3.0
Capacity
Buy this or similar SSD:
Video Review
NVMe vs Sata iii - How much faster is it? - MyDigitalSSD BPX Review
FAQ
The MyDigitalSSD BPX has 512MB Nanya 512MB DDR3 1600 DRAM. Dynamic random-access memory (DRAM) makes drive work faster, but also more expensive.
The MyDigitalSSD BPX due to the low density of memory chips may function with no further heat sinks. Some motherboards or laptops designed with additional cooling below and above the drive to enhance performance during times of heavy loads.
The BPX 120Gb has write speed 1300 Mb/s, sequential read speed 2600 Mbps. NVMe works on Phison 5007-E7 controller and M.2 3.0 x 4 interface standard. The memory type is SanDisk MLC.