Patriot Viper VPR400 1Tb NVMe SSD tech specifications
Posted on November 27, 2022 by Raymond Chen
What memory type installed in Viper VPR400 (1Tb) produced by Patriot and other details explore in our article.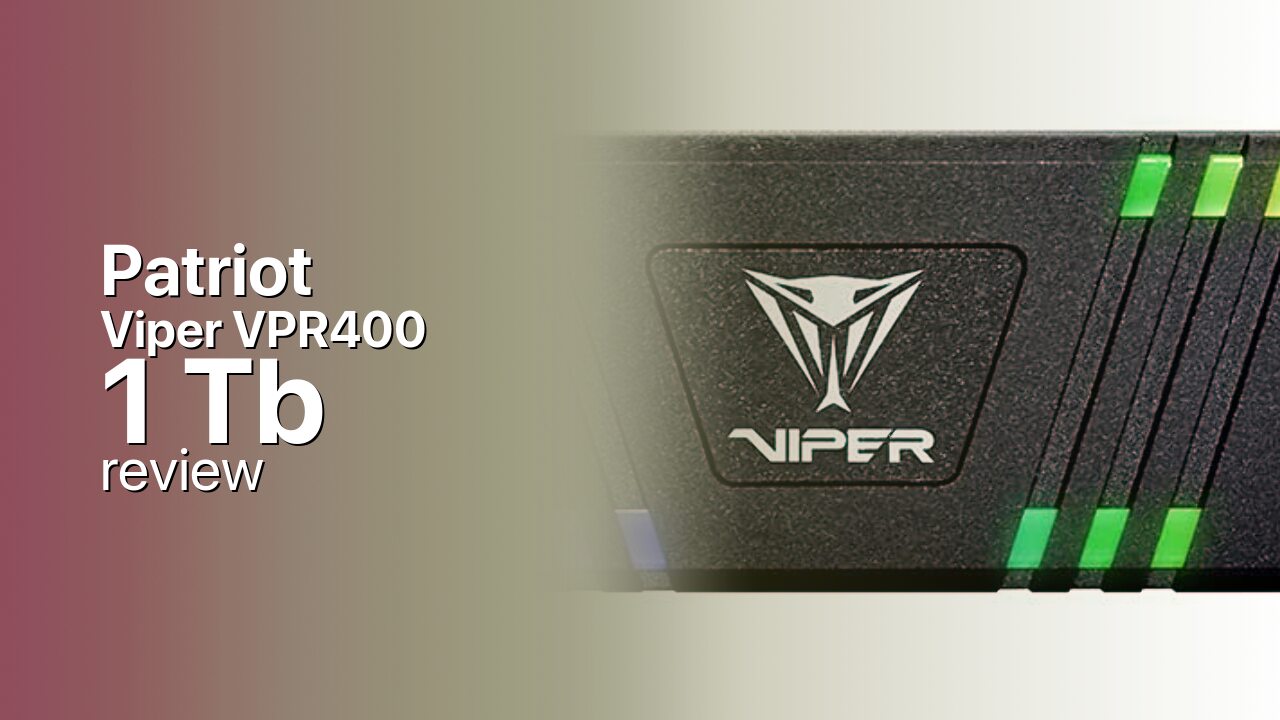 Patriot's 1Tb Viper VPR400 works on Innogrit Raineier IG5220 controller. The Viper VPR400 comes equipped with Micron TLC memory. NVMe SSD is offered also in 512 Gb capacity.
Performance and benchmarks
Drive works on PCIe M.2 4.0 x 4 interface with write speeds equals to 4400 MB/s, and read speeds 4600 Mbps. It also has input/output performance 600000 on reading and 500000 on writing operations.
Endurance and warranty
Manufacturer give 5 years warranty for this product limited by 800 Total Bytes Written.
Specs
| | |
| --- | --- |
| Category | Value |
| Capacity | 1 Tb |
| Interface | M.2 4.0 x 4 |
| Controller | Innogrit Raineier IG5220 |
| Memory type | Micron TLC |
| DRAM | n/a |
| Read speed (Mb/s) | 4600 |
| Write speed (Mb/s) | 4400 |
| Read IOPS | 600000 |
| Write IOPS | 500000 |
| Endurance (TBW) | 800 |
| MTBF (million hours) | n/a |
| Warranty (years) | 5 |
Conclusion
Patriot Viper VPR400 1Tb support PCIe 4 that is undoubtedly faster than PCIe Gen3. The write speed is 4400 Mb/s, that is pretty good for this expansion standard. The drive has endurance 800 TBW, that is good compared to closest rivals. Weighing all these factors, we highly advise to purchase Patriot Viper VPR400 1Tb for your PC.
+ Pros
Good writing speed
PCIe 4.0
Capacity
Endurance
Buy this or similar SSD:
Video Review
Un SSD FULMINEO - Recensione Patriot Viper VPR400 RGB
FAQ
The Viper VPR400 1Tb is DRAMless drive or information about it is not known. Dynamic Random-Access Memory in their controller help to improve endurance and input/output performance.
The Viper VPR400 1Tb due to the low density of memory chips able to function without extra cooling systems. Some laptops or motherboards designed with thermal pads below and above the SSD to enhance performance during heavy loads.
The Viper VPR400 1Tb has write speed 4400 Mb per second, maximum read speed 4600 Mbps. SSD operate on Innogrit Raineier IG5220 controller and M.2 4.0 x 4 interface standard. The NAND memory type is Micron TLC.